Help
How To Use the Front Page

1. Click the Sign In button. A dialog opens to let you sign up and log in using your Google, Facebook, Twitter, Email, Phone, or Apple account details.

2. Click the New Meeting button to start a new meeting. Or, enter a meeting code and click the Join button to enter an existing meeting. This opens the flowcaster.live Collaboration Site
Help
The Main Areas of the Collaboration Site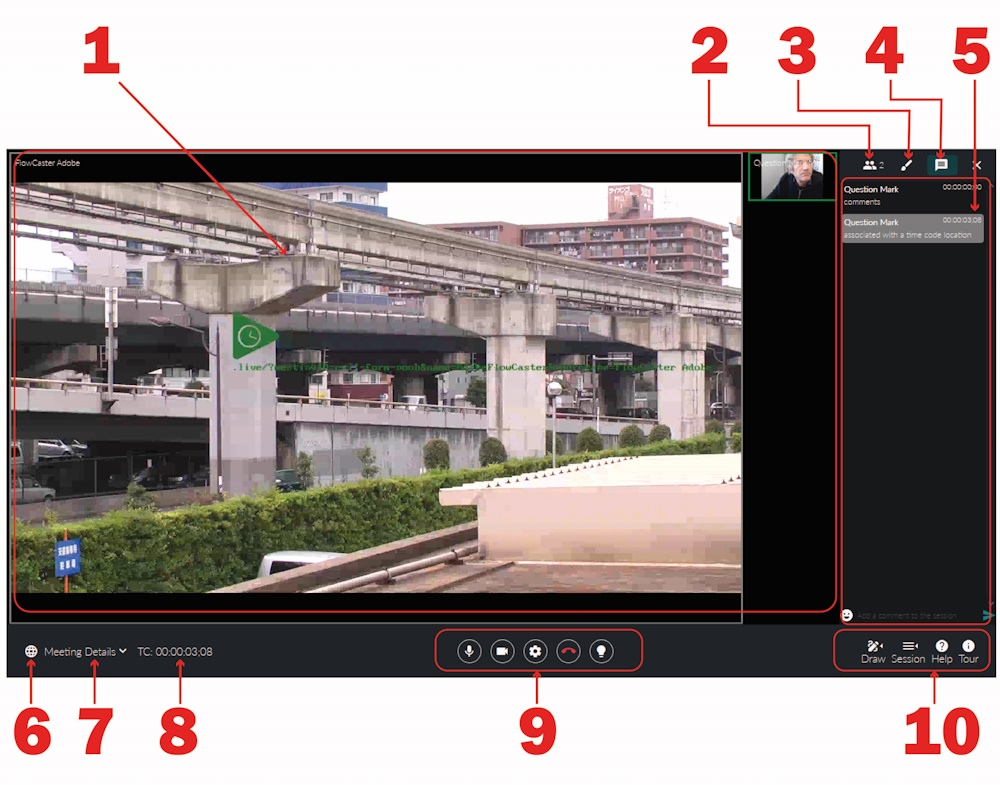 There are eleven main areas within the flowcaster.live collaborative review site:
The main screen, usually a live output of Adobe/Avid/Resolve/etc., or an MP4 file. Clicking on it makes it full size or equal size.
The cameras of the people involved, or their initials
Click to show the participants in the display area
Click to show drawing details in the display area
Click to show comments in the display area
Display Area: this area displays either the comments, the drawing details, or the participants, depending on which one is selected.
The alternate language selector
The meeting (session) details area
Time Code display from the editor if present
The main controls: Microphone on/off, Camera on/off, Configuration, Hang up (leave call) and light/dark mode selector
The drawing tools, session tools, and help selectors. Click to expand the drawing tools, or click to expand the session tools. Clicking the Help button opens this help page.
Help
How To Use the Flowcaster.live Site