Flowcaster.live Workflows
Need to finish that edit session in a hurry but the team is all over the country? Do your creative people work better when they're not all crowded into a screening room? Open a FlowCaster.live session and invite them! Everybody can view the same content and use audio chat with webcam, add telestration, text comments, and emoji simultaneously. All participants can play/pause/cue, and react at any time to the content. Quickly create deliverables, brainstorm creative decisions, and collect input for review and approval workflows.
Features
Check The Features
Support for emerging capture and display formats:


HDR High-dynamic-range television (HDR or HDR-TV)
HLG Hybrid log–gamma (HLG) transfer function
WCG Wide Color Gamut
We support standard broadcast sizes, including: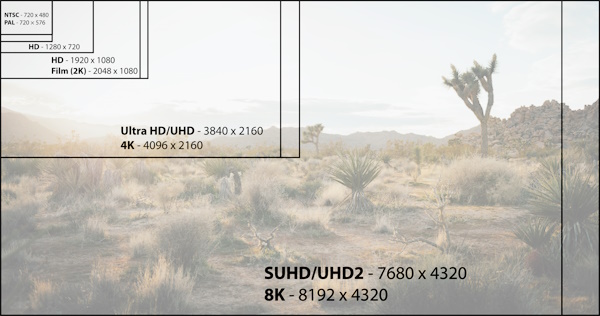 SD - PAL/NTSC
720p - 23 / 24 / 25 / 29 / 30 / 50 / 59 / 60
1080i - 23 / 24 / 25 / 29 / 30
1080psf - 23 / 24 / 25 / 29 / 30
1080p - 23 / 24 / 25 / 29 / 30 / 50 / 59 / 60
2K Digital Cinema (2048 x 1080) - 23 / 24 / 25
2K Film (2048 x 1556) - 14 / 15 / 23 / 24
UltraHD/UHD (3840 x 2160) - 23 / 24 / 29 / 30 / 50 / 59 / 60
4K (4096 x 2160) - 23 / 24 / 29 / 30 / 50 / 59 / 60
SUHD (7680 x 4320) - 23 / 24 / 29 / 30 / 50 / 60
8K (8192 x 4320) - 23 / 24 / 29 / 30 / 50 / 60
Send and receive up to 32 channels of 16, 24 or 32 bit audio.

Supports creative software including:


Adobe - Premiere, After Effects
Avid - Media Composer, NewsCutter
Assimilate - SCRATCH family
Blackmagic - DaVinci Resolve
OpenFX - Windows, macOS and Linux
Desktop - Any full screen

FlowCaster supports a wide variety of IP streaming formats, including:
SRT - (Secure Reliable Transport)
NDI - (Network Device Interface)
UDP - (User Datagram Protocol)
RTP - (Real Time Transport)
RTMP - (Real-Time Messaging Protocol)
NDI - (Network Device Interface)
CDI - (Amazon Uncompressed)
WebRTC - (Web Real-Time Communication)
WHIP - (WebRTC-HTTP ingestion protocol)
RIST - (Reliable Internet Stream Transport)
SMPTE-2110 - Uncompressed audio/video/ancillary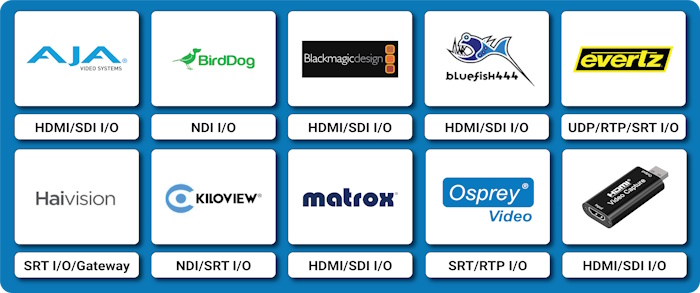 Support for HDMI/SDI with (optional) AJA, Bluefish444, Matrox, Blackmagic or USB capture device.

Have media stored in the cloud? Share it with your team via Flowcaster.live. Amazon S3, Google Web Services, and others supported.

Flowcaster.live was designed with security in mind. Your data never leaves your server if you don't want it to.
Apply 128 or 256 bit encryption, impose a user name/password, add a watermark, and burn in time code to the video to further limit risk of unauthorized access.

View content anywhere in the world, at typically less than five frames latency.
FlowCaster.live uses the latest WebRTC technology (or SRT/RIST/UDP/RTP/RTMP/CDI/NDI/2110) which provides latency of a few frames on the same continent and less than a half second worldwide.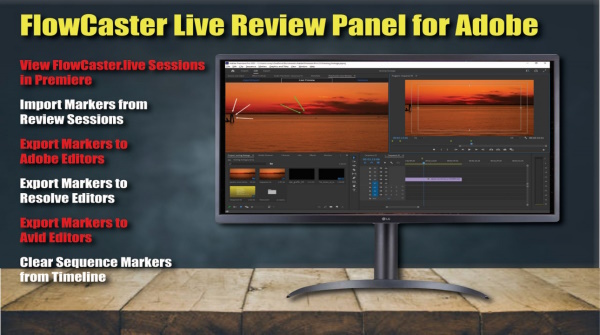 Flowcaster.live provides an extension panel you can view within Premiere and other supported Adobe software.
Save, load, and clear markers from FlowCaster sessions, and view a live preview of what FlowCaster is sending.

Comments, emoji, and telestration made as content is reviewed can be loaded into an editor and be displayed at the time code location where it was made, to streamline the editing process.

FlowCaster includes and supports a wide variety of monitoring applications. FlowCaster signals can be received by a variety of free software, like VLC, and Drastic's FlowCaster Apps for IOS, Apple TV and Android. For high-quality, multi-platform, videoQC supports playing more formats for Windows, macOS and Linux. There are also a number of hardware decoders available from AJA, Haivision and others.
Your Valuable Content Never Resides On Someone Else's Server.
FlowCaster.live was designed with security as the top priority. All data is delivered in encrypted form, and your files never need to be rendered and uploaded, to a server you have no control over.
128 and 256 bit encryption is supported.
While FlowCaster uses desktop sharing for control of the software, the audio/video signal is transported separately, using low latency/high quality compression and matching frame rate to your project.
Any target may be watermarked with an alpha blended PNG image.
Optionally time code may be burned into the stream.
Keep your assets as private, or as public, as you require. Files can be on an internal network with in-house security, or in cloud storage, or even hosted on sites like YouTube.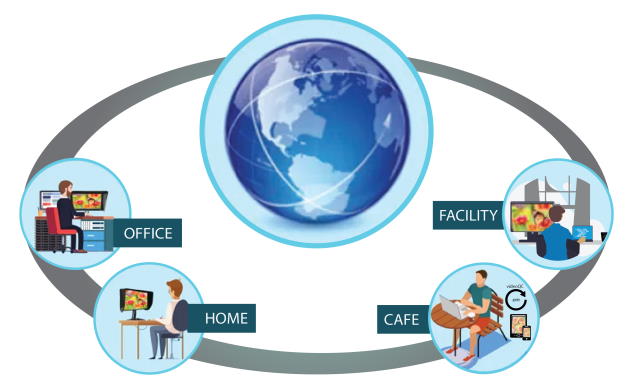 Bring the Team Together, by Keeping Them Apart
Remember when creative teams used to all get together in the same room and discuss a project verbally? So do we, but things have changed.
The screening room is now your living room. Or a local cafe, or library. View your project wherever you are comfortable, in a setting that helps drive the creative process.
A variety of free and low cost apps are available for monitoring FlowCaster feeds, including videoQC, VLC player, OBS software, FlowCaster apps for Apple iPad/iPhone/Apple TV/Android, and the Haivision Pro Player, as well as sites like Twitch, YouTube, and Wowza.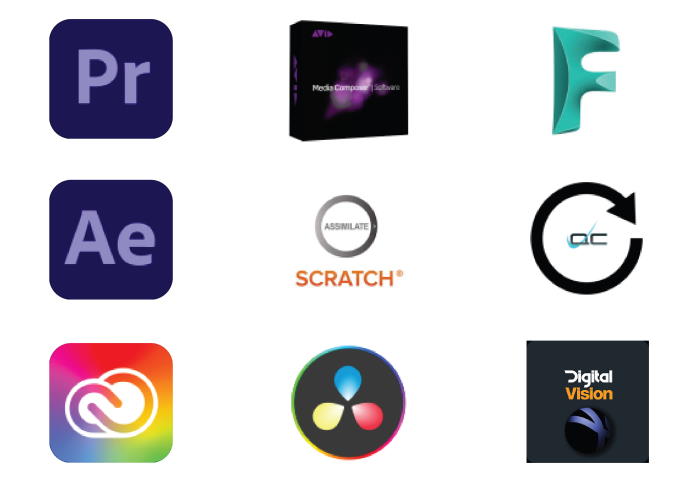 FlowCaster provides a direct plugin for Premiere, Media Composer, Resolve and many others
Now you can share a session with remote users at a quality similar to that of a hardware output to an independent monitor.
HDR/HLG/WCG, any video resolution
Up to 32 channels of high quality audio
ancillary data including closed captions, active format description and v-chip information
Signals from your creative software (Adobe/Avid/Assimilate/DaVinci/etc.) or from baseband feeds (SDI, HDMI, NDI, IP) can be sent directly to the cloud and captured to MXF, MOV, AVI, MP4 or others by the FlowCaster Server.
Signals can also be sent from the cloud, from Adobe/Avid/DaVinci/FlowCaster Server to be played locally as SDI or HDMI using a supported A/V device (AJA, Bluefish444, Blackmagic, Matrox).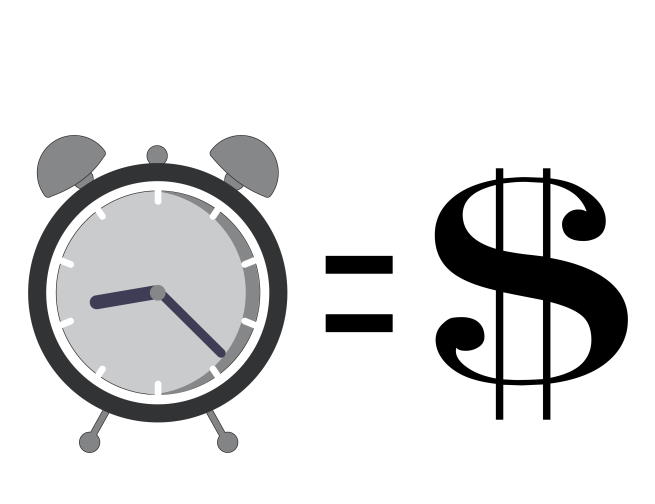 Save Time and Money, and Be More Productive with FlowCaster.live
Access to your team and creative assets are a point and a click away. Enhanced feedback and input tools like text, emoji, drawings, and webcam make sure everyone's input is retained.
Internet based review and approval workflows reduce unnecessary travel, and allow for stakeholders all over the world to collaborate on a project viewing high quality, frame accurate streams on a device they are familiar with.
IP to IP, baseband (SDI/HDMI) to IP, and IP to baseband transcoding
Read and write directly from cloud object storage, such as Google Cloud or Amazon S3
NDI, HDMI/SDI, SMPTE 2010, UDP/RTP, RTMP, WebRTC, WHIP, SRT, RIST, and CDI support.
F.A.Q
Frequently Asked Questions
Location:
523 The Queensway, Suite 201, Toronto, ON, M8Y 1J7, CANADA
Email: